A Search For Justice
A Search for Justice...What A Long, Strange Trip It's Been
I allege that the State of Minnesota falsely accused me and wrongfully convicted me of a "rape" which never happened. I further allege the State never had any interest in the truth or justice in my case--just an interest in locking up an innocent man, and then trying to keep him locked up so you would never know what really happened, and the people responsible for this tragic miscarriage of justice would never be exposed to the light of day:
http://tomevenstadswrongfulconviction.weebly.com/
IF YOU WOULD LIKE TO ACTIVELY HELP ME PROVE MY INNOCENCE AND EXPOSE ONE OF THE MOST EGREGIOUS CASES OF WRONGFUL CONVICTION IN US HISTORY, PLEASE CONSIDER MAKING A DONATION TOWARD THIS SOCIAL JUSTICE CAUSE. INVESTIGATORS AND LAWYERS COST MONEY THAT I DO NOT HAVE THANKS IN LARGE PART TO THE "PUBLIC SERVANTS" LISTED BY NAME IN THIS BLOG.
I ALLEGE MINNESOTA HAS ILLEGALLY AND UNCONSTITUTIONALLY DESTROYED MY GOOD NAME, MY GOOD REPUTATION and MY BEST EARNINGS DECADE. I am seeking help to PROVE MY INNOCENCE, AND HAVE MY WRONGFUL CONVICTION REVERSED! PLEASE HELP! THANK YOU IN ADVANCE!
My name is Thomas Wayne Evenstad and I created this website to tell the true life story of my Wrongful Conviction for the alleged rape of then 18 year-old H.S. in Richfield, Minnesota, USA in 1998 when I was 32 years old. Hopefully, witnesses will courageously come forward to share information of my innocence after all these years.
The THIN VEIL of this case is finally lifting, and when the CURTAIN is fully up, the evidence will be irrefutable that a MANIFEST INJUSTICE HAS OCCURRED IN MY CASE.
I'm searching for the TRUTH to come out, and some measure of JUSTICE in vindicating my name. That day may be very close, as more and more Law Journals around the Country are citing my Case in the context of Wrongful Convictions: Evenstad v Carlson.
I ALLEGE HONORABLE DONOVAN FRANK HAD A CHANCE TO CORRECT A MANIFEST INJUSTICE IN MY OWN CASE AND FAILED MISERABLY TO APPLY THE LAW OR US CONSTITUTION:
HONORABLE Donovan Frank US DISTRICT JUDGE

I'll post his DENIAL of my clear showings of Wrongful Conviction via: Ineffective Assistance of Counsel: Fred Goetz functioned as 2nd Chair for the State: Brady/Trombetta Violations (Judge Frank must've needed new glasses, because he sure turned a blind eye to multiple BRADY and TROMBETTA violations; and FALSE TESTIMONY FROM SPREIGL WITNESS "A.R.M." (Another State "victim" I never met in person).

I humbly suggest that any layman, let alone First year Law Student/Paralegal in Training etc., who reviews this decision will clearly see behind the thinly-disguised smokescreen of Judge Frank's Legal Semantics, that this DECISION IS A RESULTS DRIVEN ANALYSIS RATHER THAN AN ANALYSIS DRIVEN DECISION/RESULT. Heck, this "patient" saw through Judge Frank's ruse!

I allege Judge Frank wouldn't apply the Constitution or Law to a convicted sex offender. He refused to accept my clear showings to him that I was INNOCENT. I'm encouraged that the Law is catching up with me as Law Journals Reference my case in context of Wrongful Conviction and this clearly erroneous decision is obviously ripe for Reversal.

I believe Judge Frank's Decision in my appeal was wholly without merit, and his legal analysis/reasoning tortured and flawed. Law Journals around the Nation are now adopting the very arguments, analysis, and reasoning I posited to Judge Frank from prison many years ago, which he refused to accept.

http://epubs.utah.edu/index.php/ulr/article/viewFile/686/526
http://www.pennstatelawreview.org/116/2/116%20Penn%20St.%20L.%20Rev.%20331.pdf
THE VERY SAME CONSTITUTIONAL & LEGAL ARGUMENTS I POSITED BEHIND BARS WITH NO FORMAL LEGAL TRAINING A DECADE AGO AND WERE REJECTED BY THE LAWYERS IN BLACK ROBES REVIEWING MY CASE IN THE STATE AND FEDERAL APPELLATE COURTS ARE NOW BEING ACCEPTED AND ADOPTED AFTER I HAVED SERVED EVERY DAY OF MY ILLEGAL AND UNCONSTITUTIONAL INCARCERATION. EIGHT YEARS DOC, TWO MORE MSOP/DOC. TEN YEARS OF WRONGFUL INCARCERATION NEVER REMEDIED.
HERE IS AN EXAMPLE OF ANOTHER COMMENTARY ABOUT MY WRONGFUL CONVICTION:
Evenstad v. Carlson, No. 05-1467 (8th Cir. 11/30/2006) (8th Cir., 2006). - (The Supreme Court has not addressed the issue of whether a due process violation occurs if a conviction is based on perjured testimony which was unknown to the prosecution at the time of trial, (cit. om.). Furthermore, there is a circuit split regarding which standard applies in federal cases dealing with these facts. (fn om.). The majority of circuits including the 8th Circuit, 'absent a finding the prosecutor knew of perjured testimony, require the petitioner to show the false testimony "would be likely to result in an acquittal."' (citation omitted). Other circuits, like the Minnesota courts, apply a "possibility" standard granting relief whenever the discovery "might" have produced an acquittal. (citations omitted).
While "standards" are important, the circuit split is significant for obvious reasons not the least of which is that the Supreme Court's supervisory authority could be invoked. Justice is unevenly distributed when different cities and states (regions and circuits) use different standards in deciding cases. That cases involving possible prosecutorial errors or omissions get reported at all is also significant. Much more needs to be done to place the spotlight on prosecutor practices to keep them honest, because wrongful convictions cause a loss of faith in the system, a lack of respect for justice, and encourage vigilantism. Most of us want to know that the guilty are being convicted properly, most of all so that the Innocent are not Convicted and the guilty do not go free.
Sunlight is the best disinfectant.
This website will become a Central Repository of pertinent documents and narrative that will, over time, show you exactly how I was wrongfully convicted. You will have access to all of the exculpatory evidence (evidence of innocence) that was available at trial, and yet the jury never heard or saw. You may ask, "Why didn't the jury see or hear the exculpatory evidence?" Good question. Because my own attorney, Fred Goetz, (Pictured here: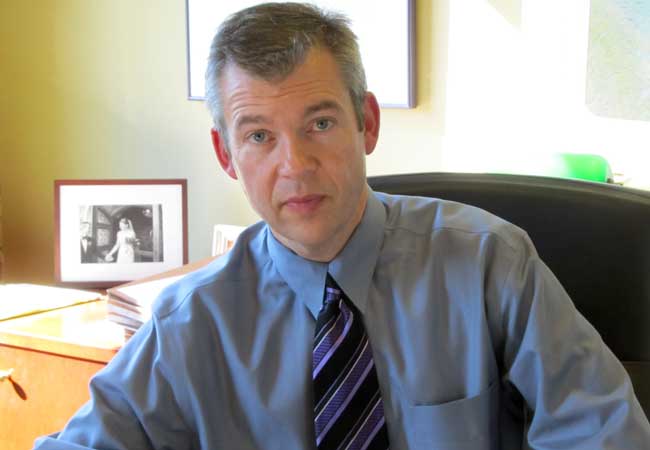 Refused to call the witnesses I requested and pleaded with him to call at trial, and Introduce other Exculpatory Evidence (EVIDENCE OF ACTUAL INNOCENCE) like a statement from Charlene and Crystal Breezee which corroborated and proved my so-called "Conspiracy Theory") that you will learn about later.
What helpful evidence Goetz did try to put on was met with objection by the State, and the trial judge,
Francis J. Connolly, just sided with the State time and time again. You will see the mountain of shocking evidence that has never before been presented for the public to see and you can decide for yourself if a Manifest Injustice has occurred that cost an innocent man 10 years of his life and a life sentence as a "Rapist", and "Sexual Predator", etc., or if the State of Minnesota got it right in removing a rapist from the street.
You are cordially invited to review all of the evidence and then decide for yourself: Did the State of Minnesota wrongfully convict me? My jury never had that chance. Now, you will have that opportunity. You be the Judge. My beloved Mother passed away while I was serving time for a "crime" which never occurred, much less would I (or did I) commit.
I wasn't allowed out of prison to even attend her funeral because she died in Florida. My Dad recently turned 85, and I pray the Lord will let my wrongful conviction be overturned and my good name restored while my Dad is still with me in in good health. He has never wavered in his belief and knowledge of my innocence, as was the case with my Mom, and for that matter, anyone who has ever really known me.
I rejected the State's plea offer of time-served, (go home from jail--no prison) 3rd degree assault (NOT Sexual Assault), 3 years of successful probation--the felony conviction would reduce to a gross misdemeanor. I told my "defense" attorney (Read 2nd Chair Prosecutor) "Super Lawyer" Frederick J. Goetz to tell his buddy, Stu Shapiro (The 1st Chair Prosecutor Read PERSECUTOR) that I wasn't interested, that I was innocent, and I would not plead guilty to any form of assault involving Hannah Seward because the sexual encounter was consensual and she was fabricating any claims that disputed that fact. Goetz's job was to defend an innocent client. Shapiro's job was to be a 'Minister of Justice'. Both abjectly failed their obligations. The result: Wrongful Conviction. It happens, and it happened to me.
The exercising of my "constitutional right" to proceed to trial led to a wrongful conviction of First Degree Criminal Sexual Conduct (Rape with Personal Injury). The initial charges and bail were outrageous enough, 3rd degree CSC (rape), and 75K bail. After listening to the recorded phone calls I made and hearing that I was about to make bail, the next morning at 5 am the deputies in the Hennepin County Jail woke me up and said I had a court appearance. The State of Minnesota inflated the already trumped up charges to 1st degree, with "Personal Injury", and 250K bail.
The State and Minister of Justice Shapiro made sure I could not bail out of jail to locate the witnesses I needed from the The Buddy System Chat Line who knew that H.S., S.O., A.R.M. and others were lying about me to remove me from this chat line I was trying to shut down because of all the minors on it I was trying to PROTECT from real Sex Offenders.
HOW IRONIC!
I even told Mike Mabe and his cameraman about this problem on Thursday, March 5, 1998 when Channel 5 Eyewitness News (ABC) came out to my residence to interview me about Fetal Alcohol Syndrome story for that night's 10 pm news.
Little did I know at that time that "Agent" Beth Roberts of the Richfield Police Department was planning her War Games with the "No-Knock" Warrant raid of my home the very next morning. Detective Roberts and the rest of the police SWAT-Type Raid Team broke down my door, shoved guns in my face and arrested an innocent man very soon after her little office visit from Aaron Gardner and Jennifer Anderson.
Here is a snippet I saw on the Internet about Roberts:
Working as a police detective,

Roberts

said she has learned to always keep an open mind and listen to both sides of the story.
"If you rush to a decision, you can stumble over the facts," she said.
She is also a trained negotiator and knows what it's like to deal with tense situations.
"I have a great deal of determination," she said."Police work is a lot of relentless work. You have to keep going until you find the right answer."
Despite no report of the "Rape" for two and a half months, no rape kit or prompt informing to any police, hospital, parent, (Authority Figure) etc., NO medical evidence, no evidence beyond perjured testimony of any kind of rape, let alone rape with personal injury, the jury convicted me.
This is just one of many problems with our "Justice" System. No one should have to serve one more day because they exercised their right to trial. If the State is concerned about fiances, then bring valid cases with evidence. Don't bank someone with 12 years in prison for going to trial if the plea offer is go home, especially when you know that your defendant is innocent. No one in Minnesota history has ever been convicted on this element of Rape with Personal Injury with less evidence than I was convicted of. There was no evidence of "rape", let alone Personal Injury.
I very strongly believe that Hennepin County Trial Judge Francis J. Connolly knew I was innocent. That's why he called the infamous "Connolly Huddle" during my trial that I will tell you all about.
Connolly allowed Spreigl evidence that should have been rejected to protect my right to a fair trial. A Law School Intern could see that the Spreigl witness A.R.M. was lying. I never even met the State's "victim" A.R.M. in person. It is impossible to sexually touch someone you never met in person.
Connolly could have granted the defense's Motion for Directed Verdict of Acquittal. After all, he ruled on the record in his Majestic Robes that the State's case (called the Case-in-Chief) was too weak to allow for conviction. The State's case was so weak it could not be proven beyond a reasonable doubt, which made sense, seeing that I was innocent. He allowed more perjury in.
I believe he certainly knew I was innocent after my post-conviction hearing a few years after my wrongful conviction.
https://dl.dropbox.com/u/24465959/2012-10%20%28Oct%29/ARM.Falsity.pdf
Judge Connolly was free to Railroad me at trial, and at my post-conviction hearing in front of him when the recantation evidence was brought before him involving A.R.M. (with whom you'll get familiarized with on the next page) and the recantation from Jennifer Anderson herself who you haven't heard about yet.
HERE IS JUST SOME OF THE SHOCKING EVIDENCE GOETZ. SHAPIRO, ROBERTS, PERTLER AND OTHERS ALL MADE SURE MY JURY NEVER HEARD, AGAINST MY WILL AND EXPRESSED WISHES. SHAPIRO, GOETZ AND CONNOLLY BULLIED, INTIMIDATED AND THREATENED ME IN CONNOLLY'S COURTROOM WITH MY LIFE, LIBERTY, PURSUIT OF HAPPINESS (AND MY GOOD NAME/REPUTATION) ON THE LINE. JUDGE FRANCIS J. CONNOLLY OVERSAW THIS ORGY OF INJUSTICE.
https://dl.dropbox.com/u/24465959/2012-10%20%28Oct%29/JA.Recant1.pdf
https://dl.dropbox.com/u/24465959/2012-10%20%28Oct%29/JA.Recant2.pdf
https://dl.dropbox.com/u/24465959/2012-10%20%28Oct%29/JA.Recant3.pdf
UNLIKE THE STATE OF MINNESOTA'S CONVICTION "VICTIM" H.S., AT LEAST JENNIFER SUNIN ANDERSON HAD THE HUMAN DECENCY AND MORAL FIBER AND COURAGE TO COME FORWARD AGAINST EXTREME POLICE COERCION FROM RICHFIED POLICE AGENT (Now apparently promoted to Lieutenant) BETH ROBERTS, STU SHAPIRO & CO AT THE HCAO AND TELL THE TRUTH AND STAND ON THE TRUTH. An innocent man would've had a life sentence under our current sex laws had Anderson not fought the corrupt "Justice" System she invited herself in with her lies.
A.R.M. admitted to a mature woman in her 50's (Karen Whelan) that she had lied at my trial, that she had not even met me in person, and that this was all one big joke to her.
https://dl.dropbox.com/u/24465959/2012-10%20%28Oct%29/ARM.Falsity.pdf
The "Honorable" Judge Connolly made the credibility determination that this now 17 year-old kid I never met who accused me of sexual misconduct when she was 15 was more credible than the mother of the boy she was dating (Karen Whelan), whom she had recanted to. Karen Whalen was very angry about Connolly's injustice, and she was offended at his credibility determination and mortified that he was sending me BACK to PRISON instead of HOME in 2001.
Did Judge Connolly dismiss this weak, perjured, corrupt case and Malicious Prosecution and let me get on with my life to pursue marriage, children, family, building a future for my family and loved ones? No. He allowed in perjured "other "crimes" evidence" (Rule 404(b)/Spreigl Evidence) from the testimony of an alleged victim (A.R.M.) I never met in person until she walked into the courtroom during my rape trial, took the stand and told the pack of lies which is her version of the Maplewood incident, which never occurred. You think the prosecutor didn't know he was putting on perjured testimony?
Prosecutor Shapiro had an ethical and moral obligation to dismiss the false charges. Instead, he arrogantly and insistently pushed on for a conviction--wrongful or not. What did he care? He knew he has absolute immunity from any corruption he engaged in. He made exculpatory evidence disappear so fast you would have thought he was a magician. It was all about winning for him. Never a search for the Truth or Justice. Same with Connolly.
In any event, it is sincerely hoped that by exposing the truth behind my wrongful conviction, and exposing some of the problems within our badly broken legal system (that provided the vehicle for this Manifest Injustice) that it may help prevent the tragedy of even one single case of wrongful conviction from occurring here in Minnesota.
Not just one life is irreparably damaged by one wrongful conviction, but rather dozens, if not even more depending on how blessed one was with having family, friends and loved ones. The toll is great for those who love the wrongfully convicted. Trust me I know.
I watched my Dad grow old from behind bars for a crime that never occurred. I cried in my cell after he left trying to be strong for me and looking stoic when he walked out of the Visiting Rooms at Stillwater, Lino Lakes, St. Cloud, Moose Lake, and Oak Park Heights. I knew as soon as he got to his car every time he visited me (which was weekly no matter where the State had stashed me) he would break down. My Dad.
The anguish, heartbreak, pain, and tears are not separated by the bars that falsely imprison an innocent man.
I wrote a letter to H.S. in 2003 or 2004 after my Mom died and I PLEADED with her to tell the truth of our consensual encounter. Her response was to call the prison and try to get me in trouble. That is the character and integrity of the State of Minnesota's "rape" "victim". Years later, when H.S. requested of Connolly Restitution for her "Medical Bills", Connolly had no choice but to refuse her because there were no medical bills, because she was lying about having been raped. I'll post those documents. These documents are very telling.
It all began on a telephone "chat line" called The Buddy System in 1997. I was meeting women representing to be of legal age or older. (18 here in MN) It soon became clear to me that despite the service's admonitions to hang up immediately if you are under 18 years of age, that there were minors using this chat line...
The State of Minnesota, and Police Agent Beth Roberts (OBLIGATED TO PROTECT & SERVE) arrested me at my home on Friday, March 6, 1998 for a "crime" that never occurred.

I was abused, violated and physically assaulted by sick people on Taxpayer Dollars ("Public Servants") in the Hennepin County Jail (which is an illegal and unconstitutional cesspool of corruption and abuse) and eventually you all paid me because Hennepin County settled with me for its abusive, illegal,unconstitutional behavior/conduct, which was UNACCEPTABLE.
Aren't you sick of paying me for my abuse?

I WAS ENTITLED TO MY RIGHTS AS A US CITIZEN AND AS AN INNOCENT PRE-TRIAL DETAINEE IN YOUR SICK, VIOLENT (STAFF, NOT INMATE) JAIL YOU VIOLATED EVERY CONSTITUTIONAL RIGHT I HAD AND LAUGHED AT ME WHILE DOING THAT.
I ALLEGE AGENT ROBERTS, SERGEANT BRET PERTLER, LIEUTENANT GARY CAYO AND ASSISTANT HENNEPIN COUNTY ATTORNEY STU SHAPIRO FABRICATED A CRIMINAL CASE AGAINST ME AND DESTROYED AND TAMPERED WITH EXCULPATORY AND MITIGATING EVIDENCE. I ALLEGE MINNETONKA POLICE OFFICER GARY CAYO BROKE THE LAW AND BROKE THE RULES AND DESTROYED AND TAMPERED WITH EVIDENCE.
I DO NOT WANT WHAT MN DID TO ME TO HAPPEN TO ANY OTHER INNOCENT MINNESOTAN AGAIN. IF IT DOES, THERE IS ONE THING YOU CAN COUNT ON: THE MINNESOTA "INNOCENCE PROJECT" (WHICH I AM RESPONSIBLE FOR IT EXISTING HERE IN THE FIRST PLACE--MORE ON THAT LATER) WILL NOT HELP YOU. THEY WILL IGNORE YOUR PLEAS AND NOT EVEN LOOK AT YOUR MOUNTAIN OF EVIDENCE THAT LEADS ONLY ONE PLACE:WRONGFUL CONVICTION.
JULIE JONAS WILL NOT HELP YOU. ERICA APPLEBAUM WILL NOT HELP YOU. THERE IS NO HELP. ED MAGERIAN WILL NOT HELP YOU. THE MINNESOTA INNOCENCE PROJECT IS A SHAM. Just compare IPMN's record against other states.
NO ONE WILL EVEN LOOK AT YOUR CASE. THEY HAVE NO CONCERN WHATSOVER ABOUT INNOCENT MINNESOTANS LANGUISHING BEHIND BARS FOR CRIMES THEY DID NOT COMMIT. THEY HAVE NO INTEREST IN CHANGING THE LAWS I KNOW CAUSE THESE WRONGFUL CONVICTIONS. THEY WILL NOT, EVEN NOW, LIFT A FINGER TO HELP AN OBVIOUSLY INNOCENT MINNESOTA CITIZEN WITH ALL HIS CIVIL RIGHTS RESTORED AND THE CLEAR EVIDENCE OF INNOCENCE AVAILABLE.
I ALLEGE THAT MINNETONKA POLICE OFFICER BRET PERTLER HASN'T HAD THE CHARACTER, INTEGRITY OR COURAGE TO COME FORWARD WITH THE INFORMATION AND EVIDENCE OF MY ACTUAL INNOCENCE THAT ALL OF THE STATE ACTORS (INCLUDING MY OWN "DEFENSE" ATTORNEY: BOW-TIED FREDERICK J. GOETZ, (WHO I ALLEGE NTENTIONALLY "THREW" MY DEFENSE)
WHO PROSECUTED ME AND PERSECUTED ME KNEW:
I ALLEGE THEY KNEW OFFICER PERTLER HAD GONE TO THE HOME OF THE STATE'S "Victim" H.S. AS A RESULT OF MY COMPLAINT ABOUT HER. I ALLEGE THEY KNOW THAT PERTLER PERSONALLY INTERVIEWED HER ABOUT HER FANCIFUL AND FALSE RAPE TALE. I ALLEGE THEY KNOW THAT PERTLER TOLD ME ON THE TELEPHONE THAT FOLLOWING HIS INVESTIGATIVE INTERVIEW HE CONCLUDED WITH ALL OF HIS TRAINING AND EXPERIENCE THAT THE STATE'S VICTIM WAS LYING ABOUT HAVING BEEN RAPED, AND THAT I WAS TELLING THE TRUTH. I ALLEGE I WON THE CREDIBILITY DETERMINATION WITH THE POLICE & BRET PERTLER, GARY CAYO, STU SHAPIRO, BETH ROBERTS & FRED GOETZ BURIED IT.
I ALLEGE THE STATE WOULD NOT ALLOW THE POLICE REPORT HE WROTE TO SURVIVE. PERTLER TOLD ME WHILE I WAS A PRE-TRIAL DETAINEEE THAT HE CLEARLY RECALLED THE INTERVIEW WITH H.S., AND THAT HE CLEARLY RECALLED THAT THIS WAS A FABRICATED RAPE TALE SPUN TO GET HER OUT OF TROUBLE WITH HER PARENTS, AND HE REMEMBERED HIS SUGGESTION TO ME TO GET A LAWYER DESPITE HIS CREDIBILITY DETERMINATION THAT THERE WAS NOT PROBABLE CAUSE TO DO ANYTHING AGAINST ME, AND THAT IN FACT THE EVIDENCE LED HIM TO CONCLUDE MY VERSION CHECKED OUT AND HERS DID NOT. HE KNEW MORE ABOUT THIS SYSTEM THEN THAN I DID.
ON DECEMBER 3, 1998 MY 71 YEAR OLD DAD AND I WENT INTO THE MINNETONKA POLICE DEPARTMENT. I WAS AN INNOCENT MINNESOTA CITIZEN WITH ALL OF MY RIGHTS--SO I THOUGHT.
MY FATHER AND I WENT INTO THIS POLICE STATION (PROTECT AND SERVE) TO OBTAIN THE INCIDENT REPORT THAT MINNETONKA POLICE OFFICER BRET PERTLER HAD GIVEN TO ME VERBALLY OVER THE PHONE THAT BETH ROBERTS AND STU SAPIRO WERE MONITORING VIA THE RECORDED JAIL PHONES.
I ALLEGE THEY BROKE THE LAW AND THEY VIOLATED MY CONSTITUTIONAL RIGHTS, LEADING TO WRONGFUL CONVICTION AND ALL DAMAGES AND HARMS THAT FLOWED FROM ALL OF THEIR ILLEGAL AND UNCONSTITUUTIONAL ACTIONS/CONDUCT. I WILL TRY TO PROVE THIS IN COURT.
ON DECEMBER 3, 1998 MY DAD, VIRG EVENSTAD AND I WENT TO THE MTKA PD FOR THE EXCULPATORY INCIDENT REPORT. THE DISPATCHER TOLD US TO WAIT A MINUTE WHILE SHE SUMMONED SOMEONE.
THEN, SOME GUY IN A BLUE UNIFORM CAME OUT AND STARTED BULLYING MY ELDERLY DAD AND I. HE WAS CLEARLY AGITATED AND HE BEHAVING VERY THREATENINGLY AND INTIMIDATINGLY TELLING ME THAT HE COULD HAVE ME THROWN INTO JAIL, ETC,--JUST BULLY TACTICS AND THREATS.
HE STATED CLEARLY TO MY FATHER AND I THAT WE WOULD NEVER SEE OUR INCIDENT REPORT, IT WOULD NEVER SEE THE LIGHT OF DAY AND THAT THERE WAS NOTHING MY DAD OR I WOULD BE ABLE TO DO ABOUT IT BECAUSE HE WAS THE POLICE AND GET OUT OF MY STATION OR I'LL HAVE YOU BOTH ARRESTED. PROTECT AND SERVE. Violate my rights & condemn an innocent man.THANKS GARY!
Check this excerpt: The Minnesota Fraternal Order of Police endorsed Klobuchar for re-election Tuesday. Its president, Gary Cayo, says the first-term Minnesota Democrat and former prosecutor has been an effective advocate for law enforcement officers.
How fitting that the PRESIDENT of the Minnesota Fraternal Order of Police is a criminal.
POLICE LIEUTENANT (YEP...PROMOTED LIKE GRIMM/JOHNSTON/CONNOLLY/ROBERTS) GARY C. CAYO HAD A NEW, INCULPATORY POLICE REPORT CREATED OUT OF THIN AIR, DATED THAT DAY (I ALLEGE SURELY WHILE CAYO WAS SPIRALING OUT OF BEHAVIORAL CONTROL AFTER JUST HAVING MALICIOUSLY AND ILLEGALLY VIOLATED MY CONSTITUTIONAL RIGHTS) THAT "REFERENCES" THE ORIGINAL, EXCULPATORY REPORT, AND FABRICATES AND TWISTS AGAINST ME WHAT IT SAID). THAT IS WHAT CAYO, PERTLER, ROBERTS AND SHAPIRO DID IN ORDER TO OBTAIN A WRONGFUL CONVICTION.
I ALLEGESTUART SHAPIRO WOULD NOT HAVE MADE IT THAT DAY HAD THE ROLES BEEN REVERSED, AS THEY SHOULD HAVE BEEN. I ALLEGE HE WOULD NOT HAVE BEEN ABLE TO MENTALLY OR PHYSICALLY WITHSTAND ONE DAY IN PRISON, LET ALONE 10 YEARS, AS I ALLEGE HIS UNETHICAL ACTIONS COST ME. I ALLEGE HE WOULD HAVE BEEN IN PROTECTIVE CUSTODY WITH THE REST OF THE SNITCHES AND REAL S.O.s.
I ALLEGE THE SAME FOR CONNOLLY/ALBRECHT, FOR DOMESTIC ABUSER AND ACCUSED CHILD ABUSERJOHN HOFF (aka "Johnny Northside"), DOMESTIC ABUSER AARON GARDNER, AND MINNETONKA POLICE TOUGH/BULLY SGT./LT. GARY CAYO, WHO ILLEGALLY TAMPERED WITH EVIDENCE IN A "SERIOUS FELONY" CASE CONTRIBUTING TO MY WRONGFUL CONVICTION.
I will PUBLICLY POST FOR THE FIRST TIME WHAT FRED GOETZ, his buddy STU SHAPIRO, and our friend FRANCIS J. CONNOLLY NEVER ALLOWED MY JURY TO SEE: SHOCKING EVIDENCE OF ACTUAL INNOCENCE. YEAH, REAL SHOCKING.
HOW MANY MORE TAXPAYER DOLLARS, HOW MUCH MORE RETALIATION, JUST WHAT IS IT GOING TO TAKE FOR MN TO ADMIT THAT I WAS WRONGFULLY CONVICTED? WILL IT BE AFTER I PROVE IT OR BEFORE? THE CLOCK IS TICKING.
I BELIEVE THE STATE NEEDS TO VOLUNTARILY ACKNOWLEDGE MY WRONGFUL CONVICTIONAND COMPLETELY VINDICATE, PARDON AND COMPENSATE ME FOR 15 YEARS OF ABUSES, VIOLATIONS, TERROR, TRAUMA, ASSAULTS, ILLEGAL AND UNCONSTITUTIONAL ACTIONS OF ALL KINDS-RETALIATION AND PUNISHMENT IN THE MOST EXTREME MANNER HUMANLY POSSIBLE.
IF THE STATE CHOOSES NOT TO RESTORE MY NAME, MY REPUTATION, AND INVALIDATE MY WRONGFUL CONVICTION, I WILL CONTINUE TO ATTEMPT TO LEGALLY COMPEL THAT RESULT.
SPREIGL LAW HAS CHANGED IN MY FAVOR. I HAVE IRREFUTABLE EVIDENCE OF BRADY VIOLATIONS AND AGENT ROBERT'S AND CAYO'S VIOLATIVECONDUCT. LAW JOURNALS ARE REFERERENCING MY CASE IN WRONGFUL CONVICTION CONTEXT. I HAVE AN INVESTIGATOR STANDING BY TO REOPEN MY CRIMINAL CASE TOP TO BOTTOM AND DO IT THE WAY I ADVISED GOETZ 15 YEARS AGO.
EXTRAORDINARY...
THIS IS A PUBLIC CALL FOR ANY ATTORNEY(S) INTERESTED IN DISCUSSING REOPENING MY OLD CRIMINAL CASE TO PLEASE COME FORWARD AND LET ME KNOW. AS STATED, I HAVE AN INVESTIGATOR WAITING FOR ME TO HAVE REPRESENTATION SO THE INVESTIGATION STRATEGY CAN BE DEVISED AND IMPLEMENTED BY THE INVESTIGATOR UNDER THE ATTORNEY'S ADVICE AND DIRECTION. PLEASE EMAIL ME AT:
tom.evenstad@gmail.com
if you volunteer pro bono. Thanks In Advance!
YOU WERE FALSELY ACCUSED A DECADE AGO. THE STATE KNEW YOU WERE INNOCENT. THEY OFFER YOU A PLEA BARGAIN. GO HOME. YOU REJECT IT. YOU GET WRONGFULLY CONVICTED FOR A NUMBER OF REASONS (YOU CAN POINT TO AND DETAIL EXACTLY WHY THIS HAPPENED AND WHAT IS WRONG WITH THIS DANGEROUS, RECKLESS SYSTEM THAT FALSELY CONVICTS INNOCENT PEOPLE OF SEX CRIMES IN THIS HYSTERICAL CLIMATE),
YOU LOSE EVERYTHING YOU EVER HAD, (INCLUDING YOUR MOTHER, WHO YOU NEVER SEE AGAIN AFTER "MINISTER OF JUSTICE" STU SHAPIRO WAVES GOODBYE TO YOU OUTSIDE ON 6TH STREET AT THE GOVERNMENT CENTER DOWNTOWN ON YOUR FIRST OF DOZENS OF HANDCUFFED, SHACKED JOURNEYS TO THE DANGEROUS, VIOLENT ABYSS OF PRISON AS A SEX OFFENDER-INNOCENT or NOT.
SHAPIRO DOES THIS ACT TO TAUNT YOU. YOU KNOW THAT HE KNOWS THAT YOU ARE INNOCENT...YOU JUST CAN'T PROVE IT BECAUSE HE CONTROLS THE FILE! FRUSTRATING, ILLEGAL, UNCONSTITUTIONAL SUMMARY PUNISHMENT, PROSECUTORIAL MISCONDUCT, MALICIOUS PROSECUTION; ALL OF THAT. DOESN'T MATTER. NOTHING MATTERS-DETAILS LIKE LAW, THE CONSTITUTION, DUE PROCESS-FORGET IT: STU HAS IMMUNITY. I CAN'T SUE HIM. OR CONNOLLY OR ALBRECHT. THIS HAS TO CHANGE. WHY ARE THESE PEOPLE ABOVE THE LAW? THEY ARE NO BETTER THAN YOU OR I. THEY COULD HAVE BEEN IN ST PETER AT THE MSOP INSTEAD OF ME.
PEOPLE GET WRONGFULLY CONVICTED. I SHOULD KNOW. IT HAPPENED TO ME. IT COULD HAPPEN TO ANY OF YOU IS MY POINT. WE MUST AS A PUBLIC DEMAND ACCOUNTABILITY FROM THESE PEOPLE EMPOWERED BY US, THE PEOPLE, TO PROTECT US FROM PEOPLE LIKE THIS. IF THEY KNOW THEY CAN'T BE SUED NO MATTER WHAT THEY THEY DO, THEN THEY HAVE CARTE BLANCHE TO TRAMPLE YOUR RIGHTS, AND THEY DO.
THE STATE GAVE ME INCENTIVE TO LEARN ABOUT WRONGFUL CONVICTIONS, THE CRIMINAL JUSTICE HERE IN MN AND NATIONWIDE AND THE SVP/SEX OFFENDER WORLD THEY UNFAIRLY THRUST ME IN 15 YEARS AGO. I READ EVERYTHING I COULD GET MY HANDS ON FROM BEHIND BARS. I'VE READ ALL THE "LITERATURE" ON SVP THAT IS OUT THERE. Every paper I could get my hands on.
ALL MY STUDIES ARE BEING REWARDED NOW THAT IT IS COMING AROUND FULL CIRCLE.
HCAO PROSECUTOR SHAPIRO HAD ALL THE EXCULPATORY EVIDENCE (AND KNEW BETTER THAN ANYONE EXCEPT H.S., BETH ROBERTS, MY LOVED ONES, FRIENDS AND I THAT I WAS INNOCENT), AND ONE WEEK FROM MY RELEASE 8 YEARS LATER, THE STATE BLINDSIDED ME WITH AN ILLEGAL, UNCONSTITUTIONAL PRE-PETITION PROCESS, THE JUDGE (PETER ALBRECHT) LOOKS DIRECTLY AT MY ELDERLY, FRAIL DAD AND HIS SIGNIFICANT OTHER AND TELLS THEM "DON'T WORRY. YOUR SON WILL BE COMING HOME VERY SOON."
Yeah, more lies and injustice. Thanks Pete.
AND THEN YOU ARE IN THE INSANE ASYLUM, WHERE THE REALLY SICK PEOPLE ARE THE ONES WHO CONTROL YOU AND YOU ARE TOTALLY HELPLESS AGAINST AND DEPENDENT UPON. TERRIFYING, TRAUMATIC, SURREAL, HELLISH, HOPELESS: MSOP

Four years later, I'm in my business suit handling my Paralegal business for Clark and I run into this man allowed to JUDGE ME, and he makes eye contact with me, his face turns pale, and he turns his entire body away from me from the humiliation & shame of what he knew he had done to me. At least Albrecht had a conscience. He wanted to cut the cord, he just didn't have the courage at the end of the day. He could have made it harder on me though, and I'm really glad he didn't. That took courage. It just takes more to battle corruption.
PLEASE, IF YOU HAVE ANY INFORMATION RELATING TO TOM EVENSTAD'S WRONGFUL CONVICTION PLEASE CONTACT ME (Tom Evenstad) DIRECTLY, OR IF YOU PREFER, CONTACT MY LEGAL TEAM'S PRIVATE INVESTIGATOR AND/OR ATTORNEY TO BE NAMED VERY SOON. If you know anyone who was on the Buddy System Chat Line in 1997-1999, Please let me know! GOD BLESS!
The Conspiracy...the first one anyway...
Part of how it became apparent that there were numerous minor females on this Buddy System Chat Line was from my bad decision one very late night--early am hour drive out to Cottage Grove, MN in the summer of 1997 to meet two women who had told me on the Buddy System Chat Line that they were both over 18. After arriving, the girls told me the women I was looking for had gone to the local gas station pay phone to call me. I asked them where that phone was and S.O. gave me directions just a few blocks away.
When I went there only to find no one using the phone to call me I finally figured it out, and realizing when I got back upon questioning the girls a little that the two "women" from the phone line were the two minor females, one 13 and the other 14 I believe at the time, I turned to go to my car and leave and go home. Just then the police arrived and questioned the 3 of us separately. Little did I know that these kids were lying to the police telling them that I was coming on to them and saying things like "Wow, you're so hot. I want to f*** you", etc. Needless to say, I was arrested and brought down to the station. I agreed to be interviewed and told the police the truth, which was that i had made no advances toward either girl, and that when I realized I had been duped by these two girls I was trying to go home.
The police investigated and determined my story checked out, and the girl's stories did not check out. The police officer told me that the older girl who was the one who was on the phone had a history of this type of behavior of posing as an adult woman and inviting adult men over
to her mom's house when her mom wasn't home or was sleeping. The policeman APOLOGIZED to me for the inconvenience of having to have towed my car and the money it cost to get my car out of police impound. No charges were ever brought against me based on having been duped out there and then the false statements that S.O. and E.C. gave to the officers at the scene.
The Cottage Grove PD handled themselves professionally and they were accomplished investigators. The DA was interested in justice by accepting that there was no case, rather than charging out a bogus case against innocent man as Agent Roberts and the Richfield police Department did. If only the Minnetonka Police Department's Sgt. Gary Cayo hadn't fabricated evidence and suppressed exculpatory evidence, and if only he and Richfield's finest (Roberts) would have held themselves to Cottage Grove's standard I would not have been arrested, let alone lost 10 years of my life to the abyss of prison and the scourge of being forever labeled a sex offender and rapist if my search for justice fails.
Years later I would meet S.O.'s brother in prison at MCF-Lino Lakes, and he would share some interesting info. He told me that his sister probably lied to the police to "avoid going back to Juvy". That statement stuck with me for good after I heard him say this on the prison yard. She didn't want to go back to a Juvenile Detention Center because of her bad behavior, so what better way to shift the spotlight than to pretend to have been sexually harassed.
After being arrested for the alleged rape of H.S. I had an allegation surface involving A.R.M., in which she claimed I met her at the
Maplewood Bowling Alley in Maplewood, MN, and that we had a Coke inside and then went for a walk on a State Trail behind the Bowling Alley. She said I touched her butt over her pants, and then grabbed her by the wrist. She then said she got out of my grasp and went home where she called her friend S.B. right away. A.R.M stated in her police interview by then Detective Beth Roberts (now Sergeant) of the Richfield Police Department, that S.B. lived within a few blocks of her house in Maplewood, where A.R.M lived.
Interestingly enough, when from lockup I read S.B.'s interview with Beth Roberts, it turned out S.B. lived in Cottage Grove, and attended the same school (Park High, Class of 1999), as...you guessed it, S.O.! They were classmates who knew each other. S.O. had her friend and classmate S.B play the corroborating witness to the "victim" A.R.M. who I had never met. I figured this juvenile, yet very serious conspiracy out from behind bars. You think Investigator Roberts couldn't connect those dots? At every step of the process right up until the jury verdict, Beth Roberts could have prevented this wrongful conviction. At any time since, including the decade I spent behind bars she could have done the right thing and came forward with her knowledge of my obvious innocence. She chose to take a very different path many years later when interviewed by the local news. I'll tell you all about that too. The Maplewood P.D. and the D.A there knew these were false allegations, and much to their credit also, they did not pursue any charges against me based on A.R.M. and S.B.'s lies. Seems only Roberts had that agenda.
More to come! Stay tuned...
If anyone knows anything about either of these two incidents which are obviously intertwined, please reach out to me on the "A Search For Justice" Page and let me know what you know. Thanks and God Bless!
Did she lie or was she raped?
Am I The Victim Or The Crime?
I met Hannah Seward in 1997 after talking with her over a period of time on this Buddy System Chat Line. She invited me to pick her up at her aunt's house in Minnetonka, MN in the Fall of '97. We had talked beforehand about the idea of having a casual sexual encounter together if we were interested in that after meeting in person. When I picked her up, she got in the passenger side of my car and we exchanged pleasantries and broke the initial ice with each other. I asked her if she was interested in pursuing together what we had talked about on the phone and she enthusiastically told me she was. I suggested going straight to my place as I hadn't picked her up until 11:15 pm and she said she would like that.
We went to my house, went downstairs where I had my bedroom and we smoked marijuana together while she put on some music she liked.
I asked her if I could kiss her and she said yes, and we were making out and moving together toward sex. I asked her if she would perform oral sex on me after I had performed it on her for about 5 minutes, and she told me she wasn't interested in doing that. I said that was okay, and asked her if she was wanting to have intercourse. She said yes, and she told me she wanted me to be on top and to be gentle. I obliged her wishes and after we had consensual sex with me wearing a condom, and I withdrew, she asked me, "Was I good?" This question has stood out in my mind for 15 years since this consensual sexual encounter became a fabricated tale of rape, and the basis for my wrongful conviction.
I told her she was good, and I drove her home. All was well. No indication or even hint that anything was wrong. Next night I heard her cruising on the Buddy System and tried to message her, but her friend Stephanie called me and said that Hannah didn't want to see me anymore. In time Hannah and I got to arguing and we both went out on the Buddy System to the opposite side and told the people out there negative things about each other.
I was upset she was still doing this after I had gone vacationing in Florida for a few weeks. When I returned to find her still bad mouthing me to the women on that line, I called her home, spoke with her 16 year old brother and told him what had been going on. He told me his parents would "kill" her if they knew she was meeting men on the phone lines and arranging sexual encounters with them. I asked him not to tell her parents but just to please ask Hannah to stop with the harassment on the chat line. Instead, he told his parents, who in turn called Hannah at work at Methodist Hospital, where she worked as a nurse's aide. They told her to come home immediately. She told them she was in the middle of her shift, and her parents told her they didn't care, and that she was to go home ASAP.
In her statement to Agent Beth Roberts Hannah details how, when she arrived home her brother met her and called her a slut, and said she was in big trouble. She stated to Roberts that she was afraid of how her parents were going to react to what their son had told them about what I had said when he called. This is the first time that we KNOW she falsely cried rape in order to give her an alibi for her own behavior, turn her parent's wrath into compassion for their "victimized" daughter. I later learned that Hannah had 3 of the 4 motives for wrongful claims of rape per the "literature": 1) Alibi Function; 2) Revenge; 3) Attention/Sympathy Getting Device
I will post her statements for you to see how her first and second statements changed and evolved for the prosecution once Beth Roberts was there for her Coaching her and developing her statement with her despite knowing that it was patently false. Richfield Police "Detective" Beth Roberts didn't like my calling Richfield and asking how much money she made when I was under investigation and caustically criticizing her for not dropping the fabricated case.
IF ANYONE HAS INFORMATION ABOUT THIS WRONGFUL CONVICTION INVOLVING H.S. FROM MINNETONKA IN 1998, AND HER THEN FRIEND STEPHANIE JO WORM, PLEASE LET ME KNOW BY CONTACTING ME AT
tom.evenstad@gmail.com
.
THANKS!
Like ARM, another "victim" I never met in person. Until in a courtroom anyway.
Jennifer Anderson is a woman who was 27 years old in late 1997-early 1998, who conspired with a man named Aaron Gardner in bringing a false claims of having been date rape drugged, duct taped to a chair and repeatedly raped while slipping in and out of consciousness. Nary a wilder tale has ever been told! Current Richfield Police Sergeant (then Investigator) Beth Roberts should have had a pretty good clue she was being fed False Information to Police when Jennifer told her the city in which this horrific victimization (like something out of the Marquis De Sade's wheelhouse) had occurred in--Moundsview, MN. I lived in Mound, and between Gardner and Anderson they missed getting that part of their little story down for Agent Roberts. Roberts made sure that little deficiency was remedied in future statements. About 50 miles apart.
Anderson was able to describe my residence to some degree because Gardner had previously been out at my house and had walked around the entire exterior. Also, I had been on the Channel 5 Eyewitness News on March 5, 1998, and I announced it to all the chat liners. (See Charlene Breezee's statement once I put it up).When the State tested the chair for evidence of the "duct tape" Anderson claimed she was bound in, of course there was no evidence to support that ridiculous allegation. Despite the fact that I had not even met Jennifer Anderson in person, the State, in its infinite wisdom and unlimited power, charged me with two counts of having raped Jennifer Anderson.
Anderson eventually recanted her woeful tale, and told Beth Roberts she had never even met me. Turned out it was Police Agent Beth Roberts who provided the ID of me in a photo line-up Roberts showed her, according to Jennifer Anderson. Anderson testified to Beth Roberts' illegal and unprofessional "improper prompting" which even the Courts found Roberts guilty of. Roberts has never admitted her wrongdoing.
The State dismissed their false charges relating to Anderson the day my trial began, and my "defense" attorney, bow-tied Frederick J. Goetz refused to even attempt to bring in onto the record and into the witness stand the evidence of Anderson's false rape allegation which would have led to an acquittal at trial. Goetz told me I couldn't talk in the courtroom. Yes, that was MY attorney!
The prosecutor, Minister of Justice "Stu" Shapiro was yelling at me and threatening me if I talked I would be removed, and the"Honorable" "Judge"
(Francis J. Connolly--now Appellate Judge Connolly--funny how and why people get promoted) just allowed this to happen and told me to shut up when I tried to voice my protestations to being bullied and silenced in the courtroom with my freedom and reputation on the line.
Please review Anderson's recantations and testimony here:
https://dl.dropbox.com/u/24465959/2012-10%20%28Oct%29/JA.Recant1.pdf
https://dl.dropbox.com/u/24465959/2012-10%20%28Oct%29/JA.Recant2.pdf
https://dl.dropbox.com/u/24465959/2012-10%20%28Oct%29/JA.Recant3.pdf
It is something like you think you might see in a Hollywood horror movie, but you would not want to have lived it as I did. TRUST ME.
Big Railroad Blues
I guess as good a place to begin documenting what happened at trial is with the plea offer that Prosecutor Stuart Shapiro made to my attorney, Fred Goetz, and which Goetz related to me. The State's offer was time-served (go home), 3rd degree assault (no sexual assault, no registering as a sexual predator, no sex offender treatment, etc.), and in 3 years of good behavior, the felony would reduce to a gross misdemeanor.
I rejected that offer because I was innocent. Later, the State (Shapiro) and even Frederick J. Goetz would deny that offer was ever on the Table. I'm sure glad my elderly father, Virgil Evenstad remembers the struggle we faced whether I should take that deal and go home, or fight the false charges at Trial. Surely Shapiro and Goetz had emails/other written proof of this Plea Offer, but these are corrupt liars and they denied any documentation.
If I was actually innocent, why didn't the appellate process set me free?
Because the appellate system is broken...just like the rest of it. (MORE TO COME...)